CABINETS
(Lyon)
Pro-Quip sells only the highest quality Lyon industrial storage cabinets – you will not find cheap commercial cabinets on this website. All of our cabinets for sale online are in-stock and ready for immediate shipment. Non-stock cabinets are available in custom colors and sizes. If you don't see the specific cabinet you are looking for, try downloading Lyon's full line catalog or contact us for additional information:
Download a Lyon Workspace Products Catalog (PDF format)
Request a Lyon Workspace Products Catalog
Manufacturer's website: www.lyonworkspace.com
If you can't find what you are looking for here or elsewhere, let us go to work and source it for you—for free!
e-mail: sales@proquipco.com
phone: (800) 498-8099
fax: (781) 932-9288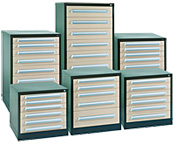 Also available for special pricing---
Modular Drawer Cabinets! Call today!