FIRE/SAFETY CABINETS
(Lyon)
All of the Fire & Safety Cabinets you'll find on these pages are IN-STOCK and ready for immediate shipment! These cabinets represent only a fraction of Lyon's full range – check out the catalog or contact us for compact, under-counter, paints/inks, pesticide, drum storage and safety cans.
Download a Lyon Workspace Products Catalog (PDF format)
Request a Lyon Workspace Products Catalog
Manufacturer's website: www.lyonworkspace.com
View All of our Fire/Safety Cabinets
If you can't find what you are looking for here or elsewhere, let us go to work and source it for you—for free!
e-mail: sales@proquipco.com
phone: (800) 498-8099
fax: (781) 932-9288
SAFETY CABINET BUYING TIP: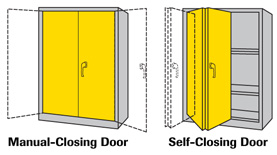 Most safety cabinets are configured with either manual doors or self-closing doors. Manual doors, as the name implies, must be closed by hand to secure the contents. Self-closing doors have a spring loaded fusible link that automatically slides the doors shut if the temperature reaches 160 degrees – these doors are great for high risk areas and contents that are constantly being used.